We transformed the traditional style and making of 'enamel mug'
Revolutionising the conventional method of enamel-making and utilising the experience of local craftsmen, our beautifully designed mug combines wood handle with elegant enamel. The unique combination not only resolves the difficulty to hold a hot enamel mug but exhibits the artistry of playing with three different materials.
Fun daily experience
Our eye-catching collection of Enamel Mug series brings joy to your daily life! There is a variety of colours to choose from for your likes. The wide range of selection shows the diverse features of enamel mug and each mug is hand-painted by local craftsmen. Thus, every mug has its distinctive touch of craftsmanship.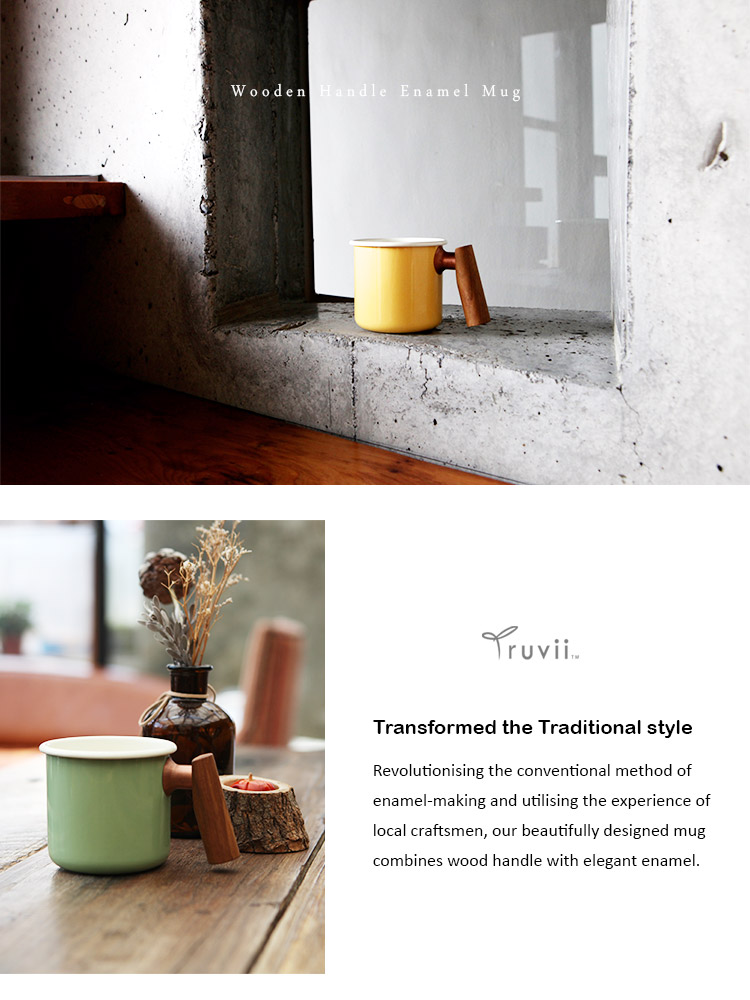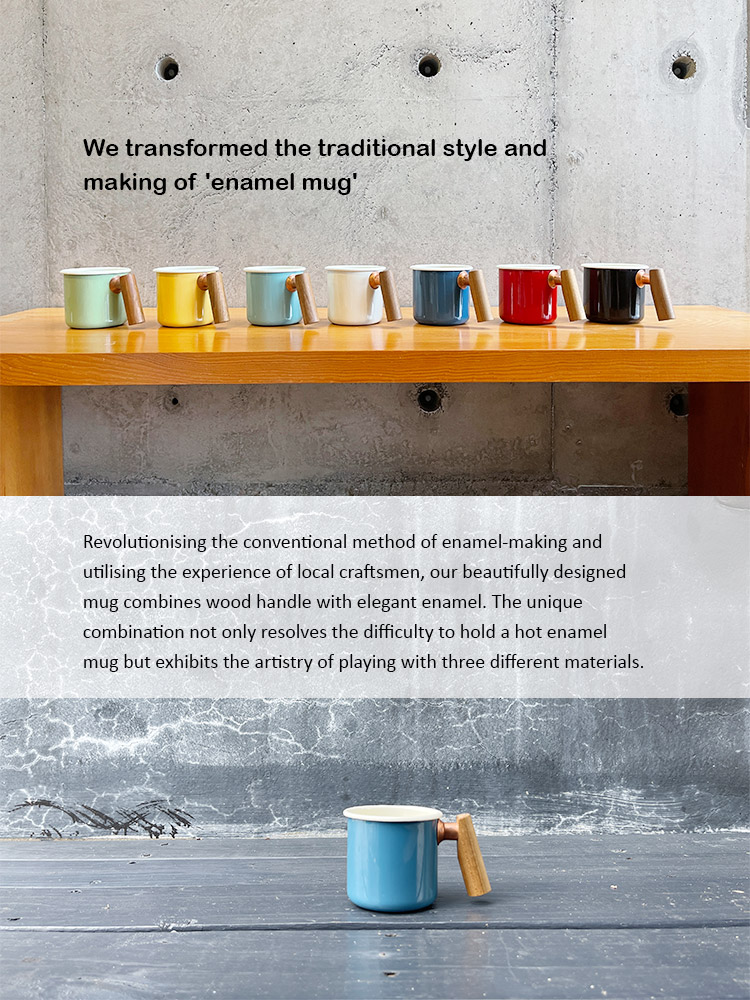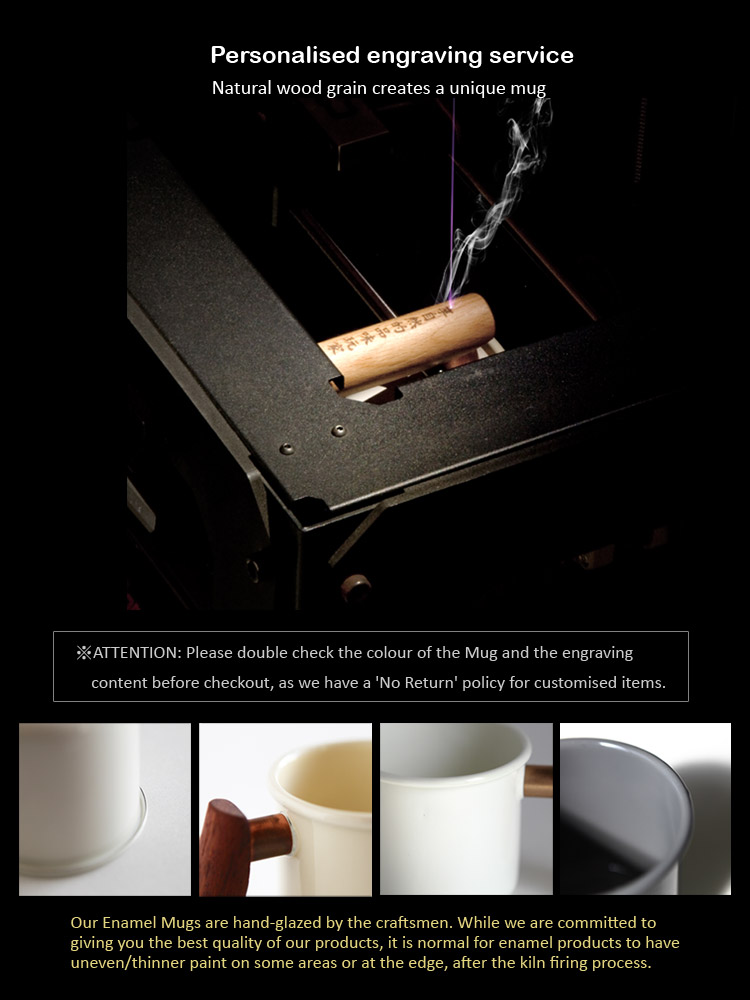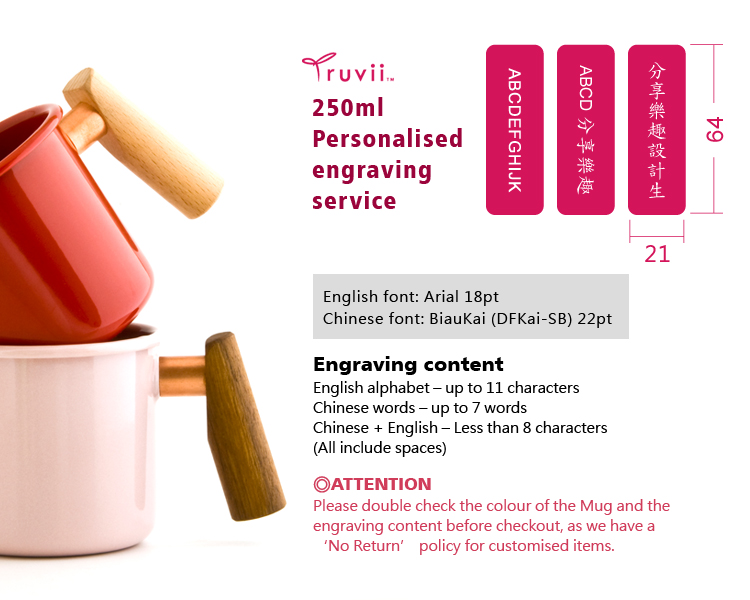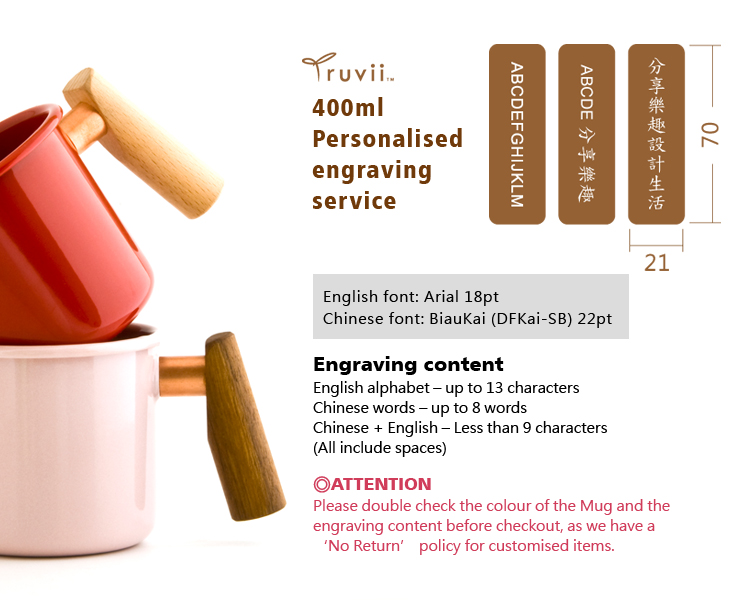 【250ml Product detail】
Capacity:250ml
Diameter:8cm
Weight:142g (±5%)
Made in Taiwan
【400ml Product detail】
Capacity:400ml
Diameter:9cm
Weight:240g (±5%)
Made in Taiwan
【Little Reminders 】
Owing to the diversity of wood grain and different types of wood, each wooden handle of our Mug has its unique pattern. All images shown here are for illustration purpose only. Actual patterns of the wooden handle may vary due to the stated reasons.
Because of the wooden handle, the Mug is not suitable for oven and microwave use, nor should heat up an empty mug.
Enamel cup anti-acid, easy to clean, not easy to residual food flavor.
When washing the Mug, do not soak the wooden handle in the water for too long and simply leave it aside to dry it.
Do not drop or impact the enamel products, or the enamel glazing might peel off. If the peeled off spot is exposed to moisture, acids, or alkaline substances, it may gradually become rusted.
Our Enamel Mugs are hand-glazed by the craftsmen. While we are committed to giving you the best quality of our products, it is normal for enamel products to have uneven/thinner paint on some areas or at the edge, after the kiln firing process.
We aim to deliver you the best quality of our products. However, minor flaws, such as uneven coating or tiny black spots, may appear on the Mug during the kiln firing process. These cannot be predicted and are uncontrollable, because of the nature of enamel glazing. If you are a perfectionist, please be aware of these issues and think twice before placing your order.
The patented number of the Wooden Handle Mug:D194552/D194560/D194561/D177905/M527726